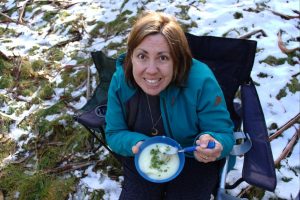 On our recent family adventure we headed towards Oberon in search of snow. We knew it had been snowing up that way, so we decided to try our luck in finding any remaining snow on the ground.
Waking up Sunday, a little later than we had hoped, to the sound of my little boys excited voices. I heard the birds singing, looked outside and it was a beautiful sunny day. My hopes of finding snow were slim to none.
I dragged my sore aching body out of bed (one of the regular occurrences of living with compromised mobility and circulation issues) and began what felt like the huge task of packing for the day trip ahead.
Walking out the door and piling us all into the car around 11.30am… finding snow, on a sunny day, leaving Penrith at 11.30 am. Is that at all possible?? Still we headed up the mountain. Driving down the road and it dawned on me that in the chaos of the morning I had forgotten my pain medication, this could be a LONG day.
Our little family, having a person with physical limitations and circulation issues and another with sensory processing issues, it is important that we factor in some breaks:
First stop: Todarello's Katoomba Village Fruit Market
A chance to stretch our legs while purchasing some lovely fruit and vegetables for the week ahead and hey, if the unforseen happened and we got stuck somewhere we certainly wouldn't go hungry. I also took the opportunity to purchase some lovely fresh chives to have with our hot potato soup that we made early that morning and was keeping warm in our trusty shuttle chef.
Back in the car and munching on fresh juicy strawberries and crunchy apples we continued up the mountain.
It wasn't long before the boys in the back were getting restless and let's face it, the adults where in desperate need of caffeine….
Next stop: The Lolly Bug, Hartley Valley:
Lollies galore, gifts and Caffeine. An all round nice place to relax, recoup for the drive ahead. The boys got their lollies; we got our caffeine and a very looong rest break.
Our adventure continues as we drive up the mountain. The boys in the back are quiet, had a sugar crash and are fast asleep. The adults can now relax, chat and enjoy the scenery around us. Smelling the eucalyptus from the trees and hearing the sound of the Bell Birds in the distance.
Driving through Edith, WAIT! Was that snow??? Yep, yep. It is definitely snow on the side of the road. WAKE UP BOYS, ITS SNOWING……
It was my little boys first time seeing snow, we all had so much fun having snow ball fights, exploring the snow through the trees and bushes, the logs covered in a blanket of snow. Just amazing!!
We still hadn't had lunch at 2pm. So, we headed toward Kanangra national park were we saw MORE SNOW, Swamp Wallabies, Grey Kangaroos and Kookaburras.
We found a nice place to set up our camp chairs amongst the gum trees and snow covered grass and enjoyed our warm potato soup with chopped chives on top and a few pieces of fruit.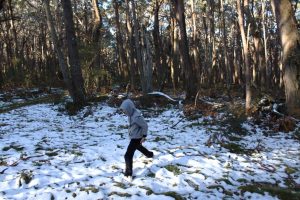 We even came across some deer and wild pig poo.
All this offering a chance for us to spend time together,stretch our legs, a great sensory experience for the boys see some of what our beautiful Country has to offer and creating memories that will last forever.
That's all from me for now.
Stay safe and "say YES to new adventures"